---




Special Advance Gonerfest Ticket-
$75 for actual ticket, Goner Ornament, and Gonerfest 16 T-Shirt
Click ticket for more info!
------------------------------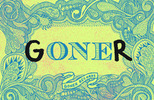 In Stock!
ZIPPER HOODIES, BEANIE CAPS
TRUCKER HATS. T-SHIRTS, GIFT CARDS TOO!
GONER GIFT STUFF HERE
Lots of great Stocking Stuffers!

---

OUT NOW!
BOSS "STEEL BOX" 7"
F*cked Up / Rixe Members!




OUT NOW!
CARBONAS Your Moral Superiors: Singles & Rarities dbl lp / cd



OUT NOW!
SICK THOUGHTS s/t lp



OUT NOW!
COBRA MAN
Toxic Planet lp/cd/cass



OUT NOW!
SORE LOSERS Soundtrack dbl lp



REPRESSED!
CROWN COURT - MAD IN ENGLAND 7"
UK PUNK KINGS



OUT NOW!
BENNI - THE RETURN


Amazing synthesized worlds from BENNI!


HARLAN T BOBO - A HISTORY OF VIOLENCE lp/cd


New dark masterpiece from Memphis / France troubadour of the troubled!

BAD TIMES - STREETS OF IRON lp
Jay Reatard, Eric Oblivian, and King Louie Bankston's one-off garage rock monster re-issued! Re-sequenced with new tracks left off the original! Limited to 1000...
QUINTRON - EUROPA MY MIRROR
BOOK
Tour Stories - Wisdom From The Road